Regular price
$17.99 USD
Sale price
$10.22 USD
Unit price
/
per
Sale
Sold out
15 in stock
Share
View full details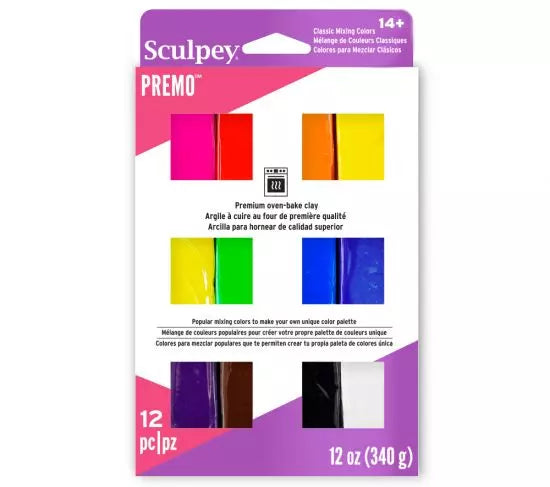 Sculpey Premo™ 12 Piece Classic Mixing Colors Multi-Pack PE VMC-12
12 - One ounce bars
Sculpey Premo™ is perfect for the more experienced clay or artist! Sculpey Premo™ is soft enough to blend easily but firm enough to hold fine detail and for specialized techniques.  This pack is a mix of popular Sculpey Premo™ clays!
Sculpey Premo™ is flexible, very strong and durable making it the perfect choice for advanced techniques like caning, mokumegane and mica shift. 
Stays soft until baked – Does not air dry. Remains soft until it is baked in your home oven.
Extra clay can be stored and reused - won't dry out!
Great for a variety of projects such as: jewelry, DIY home décor, mixed media and more!
Safe and non-toxic!
This pack contains popular mixing colors that allow you to easily blend together to create your own custom color palette. 
Includes 12 - 1 oz. bars: Fuchsia, Cad Red, Orange, Cad Yellow, Zinc Yellow, Green, Cobalt Blue, Ultramarine Blue, Purple, Burnt Umber, Black, White.