Regular price
$93.76 USD
Sale price
$52.74 USD
Unit price
/
per
Sale
Sold out
11 in stock
Share
View full details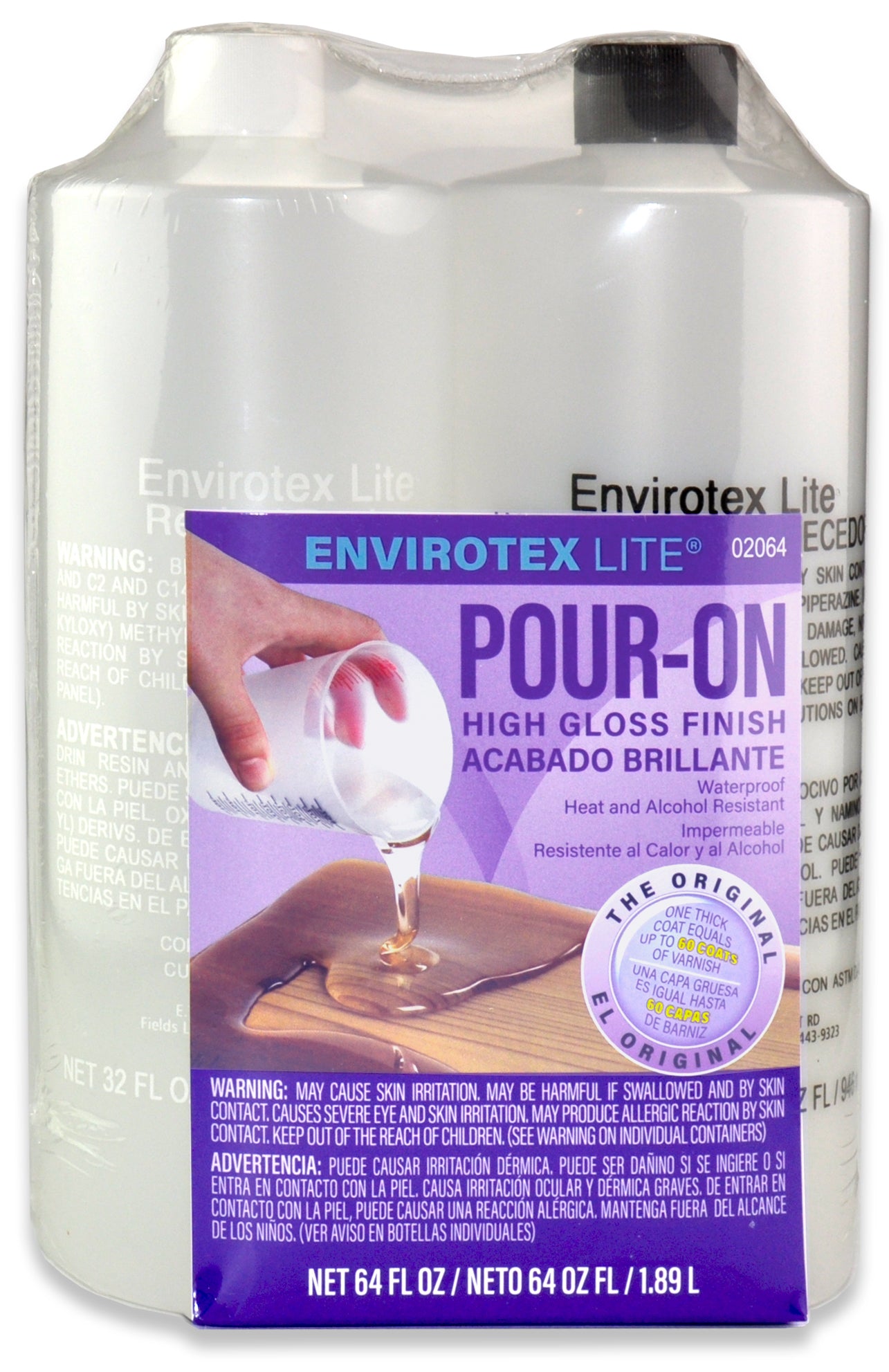 Envirotex Lite®, 64 ounce kit, Pour On High Gloss Finish

  (1 quart resin, 1 quart  Hardener.) Item # 02064
Coverage: 16 square foot
Application Instructions         SDS for Hardener             SDS for Resin
Envirotex Lite is a water clear reactive polymer compound. It cures to a thick, glossy coating in about 8 hours at 70°F, and reaches full strength and toughness in about 48 hours. This durable, resilient material requires no polishing to produce a high gloss. One coat is all that is usually required for a deep attractive finish, however, two or more coats maybe applied one over the other by simply wiping the surface with a clean cloth and alcohol prior to re-coating.

Envirotex Lite is used as a table tops, bar tops, resin art, countertops and much more.   Envirotex Lite® is alcohol and heat resistant. Envirotex Lite®  Envirotex Lite is a bar top epoxy, table top epoxy, resin art epoxy, and much more . A 64 ounce Kit consists of  32 ounces Resin and 32 ounces Hardener, making a total of 64 ounce.

ORM-D, Consumer Commodity:      UPS GROUND SHIPMENTS, no additional shipping fees within the continental US, hazmat fees are added to all shipments to Alaska and Hawaii. 
For all AIR SHIPMENTS this item is considered a Hazardous Material.  In addition to regular Air Shipping  Fees, an Additional $35.00 UPS Hazmat shipping fee is added per box for all materials shipped.  THIS FEE IS NOT SHOWN ON ORDER CONFIRMATION, AND WILL BE ADDED TO THE SHIPPING CHARGES.
 See Terms and Conditions.